Fall is here – crisp air, apple picking and football! In that spirit, let's take a look back at some local sports history.
We will be focusing on Peabody sports and athletes in the upcoming postcards. Who do you want us to spotlight?
Peabody sports legend, John "Nanny" Bezemes was born in Peabody on October 1st, 1920. Bezemes excelled at baseball, basketball, and football. Considered by many to be the greatest athlete from Peabody High School, Bezemes was part of the 1938 championship football team.

Bezemes received numerous collegiate sports scholarships offers before deciding to attend Holy Cross, where he earned a B.S. in Education.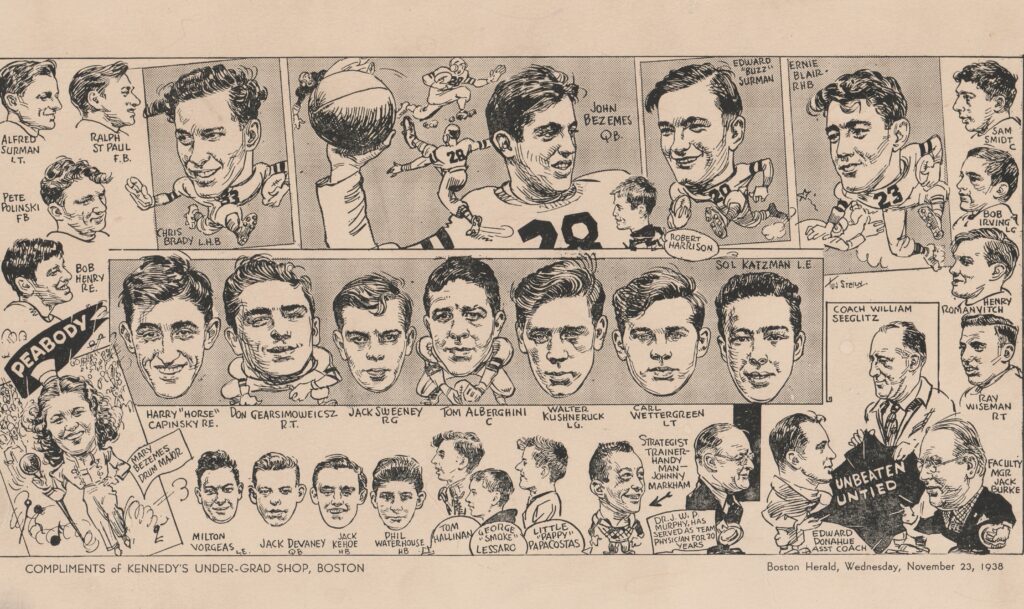 At Holy Cross, he played halfback. In 1942, Bezemes' Holy Cross team faced the powerhouse Boston College Eagles. The Eagles were undefeated that season, at 8 and 0, having defeated their past four opponents by combined scores of 168 to 6. Bezemes ran for a touchdown, caught two, and threw for a fourth in a shocking 55-12 upset. The game became iconic for Peabody, and for more reasons than the win. Many of the disappointed BC fans cancelled their celebration plans for that evening, and most notably, a group skipped out on reservations at the popular nightclub, Cocoanut Grove. Hours later, the Cocoanut Grove caught fire, killing nearly 500 people. With their win, Bezemes and the 1942 Holy Cross team may have unwittingly saved the lives of many of the BC football fans and players.
Upon graduation, Bezemes enlisted into the U.S. Army, becoming a Sergeant, and was honorably discharged in January 1946. Soon after, Bezemes was drafted by the Philadelphia Eagles. After playing for the Eagles, John tried his hand playing for the Chicago Cubs.
Following his professional sports career, Bezemes returned to Peabody and taught geography at Peabody High School for 30 years. During this time he coached varsity football and baseball, sharing his love for the game with young Peabody students. Bezemes held the position of Athletic Director for 10 years, before he retired in 1981. John Bezemes died on February 27th, 2011, after having inspired the dreams of many Peabody athletes. The City of Peabody dedicated the Peabody High School Baseball Field in his name.
References
"Bezemes — Real Student & Good Player: Nanny Proved Best Asset to Tanners", Staff Writer, The Peabody Enterprise, December 9, 1938.
"Fantastic Five: Peabody High's all-time five greatest football players." The Salem News, August 22, 2014.
Metropolis, Andrew. Peabody School Sports Research Files, Peabody Historical Society and Museum
Pave, Marvin. "Obituary: John Bezemes, Peabody teacher, coach, and athletic director; at 90" Boston Globe, March 11, 2011.
"Obituary: John Bezemes" The Salem News, March 1, 2011.
Wells, John. The Peabody Story, 1972, 433.