Graduation season is upon us, so let's take a look at the many lives of Peabody High School.
Opened in 1850, the first Peabody High School was a small one-story building, once used as a chapel in the rear of the Unitarian Church on Park Street. It held 43 students.
Now, over 170 years later, Peabody High School has relocated four times, grown to three stories and educates up to 2,000 students a year.
1850-1855
First Peabody High School
Unitarian Church, Park Street, Now Condominiums
1855-1903
Second Peabody High School
Now Veterans of Foreign Wars Post, Stevens Street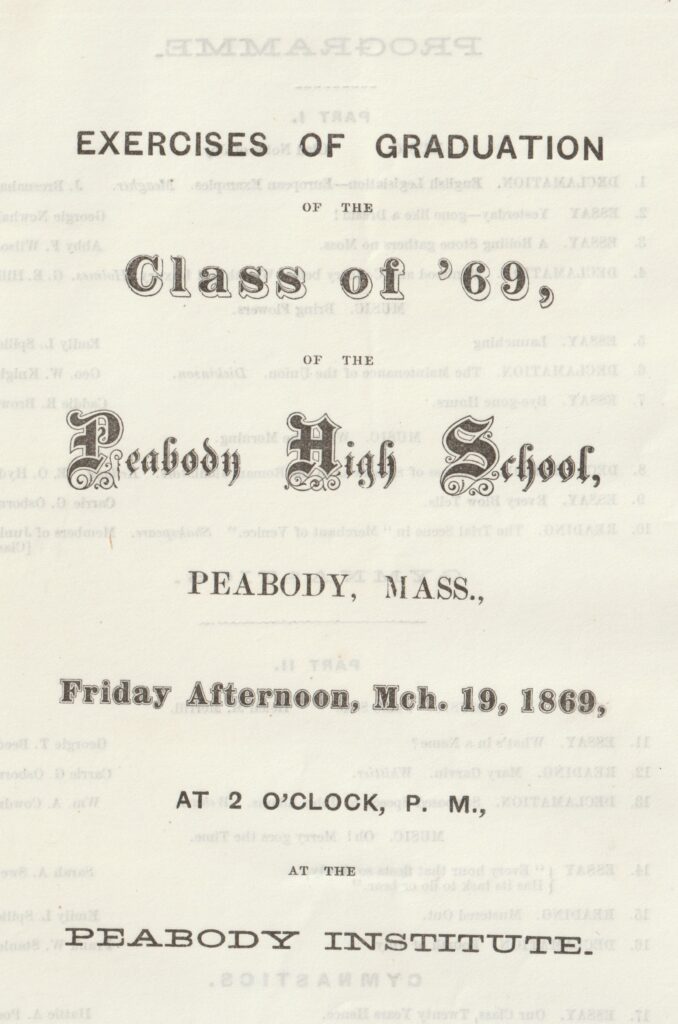 Graduation Program for the Peabody High School Class of 1869;
In 1868, the town adopted the name Peabody.
Per article, "the singing was much better" at this ceremony as opposed to the last couple of years. Quite the commentary!
1904-1965
Third Peabody High School is now Peabody Housing Authority, Central Street
1966-1971
Fourth Peabody High School
is now the Higgins Middle School, Perkins Street
1972-Present
Fifth High School
Peabody Veterans' Memorial High School, Feery Road
Did you go to Peabody High School? Which location did you graduate from? We love hearing your stories, so feel free to share them with us!
This information can also be found in a pop-up exhibit our Assistant Curator Morgan Stutler installed at Peabody Veterans Memorial High School this spring.