We are delighted so many of you enjoyed "First Lady Friday"! We will be back with that series in our next Postcard.
Today, we wanted to delve into our wedding collection. We were inspired after our Smith Barn being named one of the top orchard wedding venues in the US by Brides.com. See link here!
In 2017, Peabody's Mary Theo gave us a treasure trove of her family's most important items, in loving memory of her mother, Mary "Barbara" Comeau O'Neil. The donation included her grandmother's wedding gown, along with accompanying photographs and newspaper articles. Today, we would like to share their story with you.
Mary Helen Doyle was born June 30, 1906 to Martin and Mary (O'Brien) Doyle in Peabody. Martin Doyle's occupation was listed as an "expressman," or deliveryman. They lived at 205 and then, 286 Washington Street. Mary Helen had six siblings: Martin, Alice, Arthur, Raymond, Dorothy and Lillian.
Charles Augustine Comeau was born July 31, 1903 to Francis and Mary (Dee) Comeau in Peabody. They lived at 197 Washington Street and later moved to 19 Dustin Street. Francis was a carpenter. Charles had four siblings: Francis, William, Edmund and Edna.
Mary and Charles Comeau married at St. John's Church on October 24, 1933.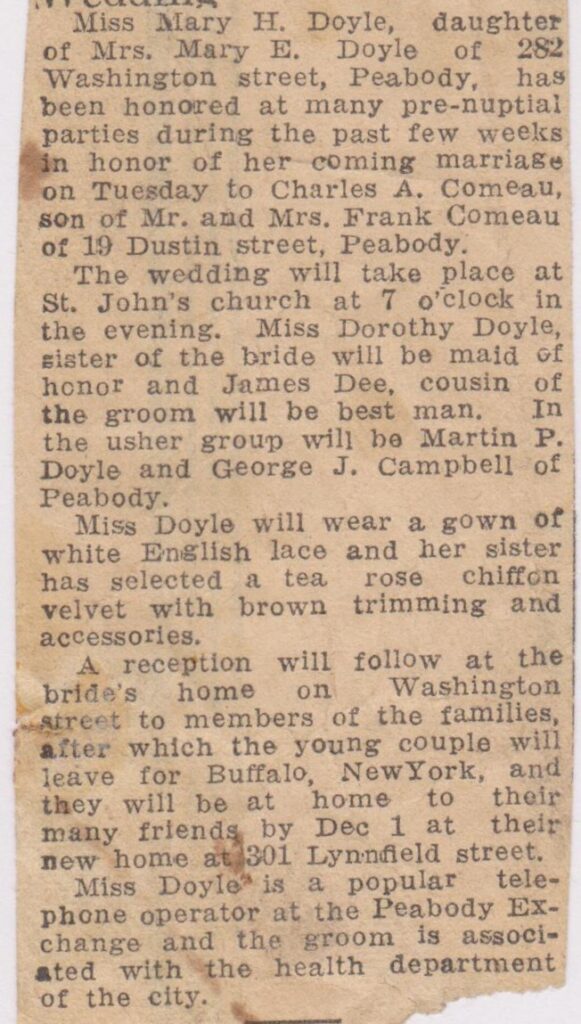 Mary and Charles had one daughter, also named Mary, born November 7, 1934. She was called by her middle name, Barbara. The family lived at 301 Lynnfield Street, 21 Bartholomew Street and finally, 17 Cedar Grove Avenue. Barbara graduated from the Peabody High School Class of 1952 and was a majorette.
Barbara and Buddy both attended Peabody High School. Buddy served 4 years in the Navy and was a Peabody police officer. They had three children: Shaun, Kathleen and Mary (our donor).
Thank you to Mary Theo for sharing her family's story with us.